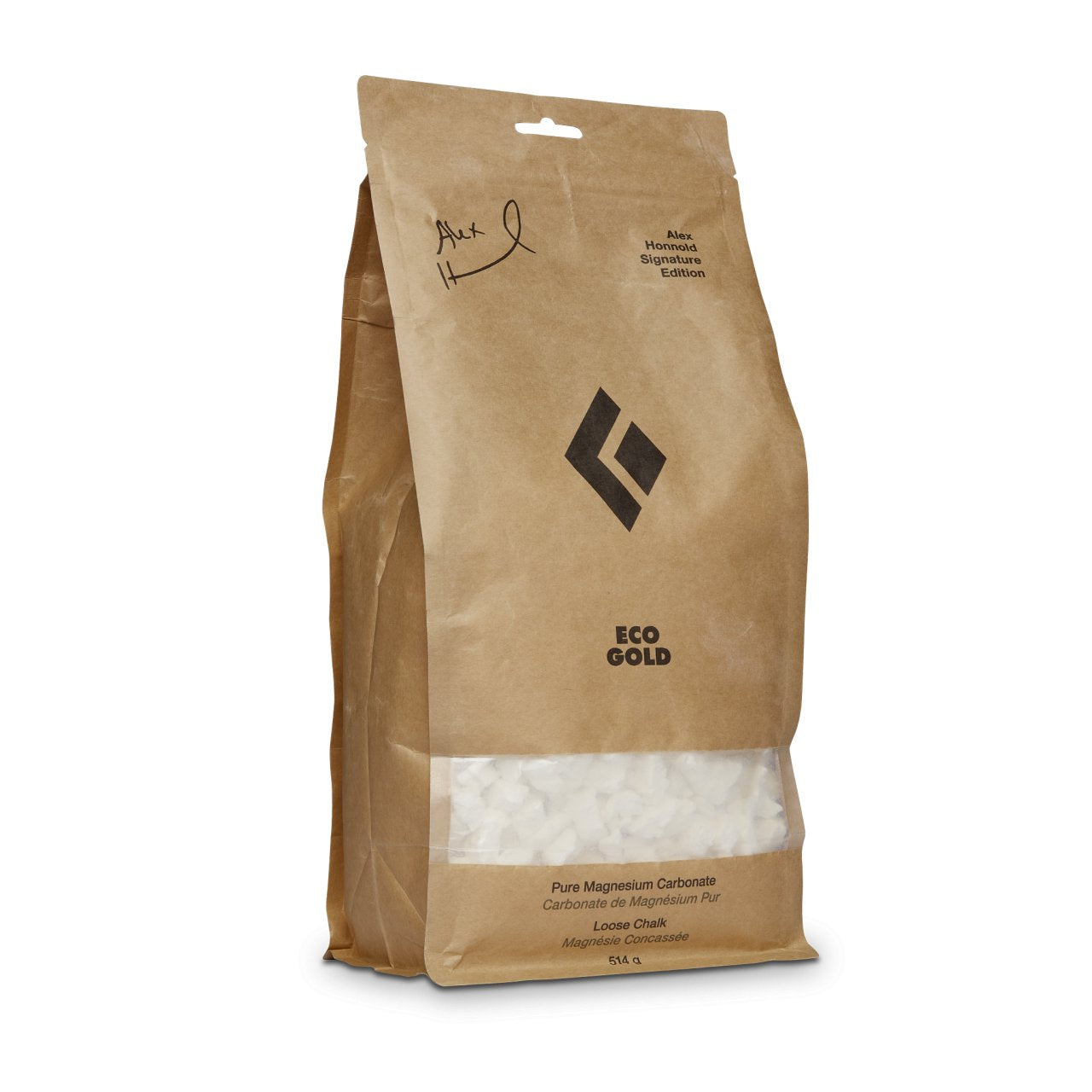 Eco Gold Chalk (514g) - Honnold Edition, chalk
Vendor
Regular price

€2227
Regular price

€2475

Sale price

€2227
Unit price

per
BD Athlete Alex Honnold doesn't have to rely on much gear, but for all of his groundbreaking exploits on rock, there was always one crucial component: Chalk.
That's why BD partnered with the Honnold Foundation for ECO Gold—the latest addition to BD's line of engineered chalk. Made from pure magnesium carbonate, which is the byproduct of the desalination process, as opposed to being mined from the earth like typical climbing chalk, ECO Gold is purer and eco-friendlier than other chalk products on the market. In other words, ECO Gold is as easy on the environment as it is on your hands. Plus, thanks to its pure form, this chalk is extra absorbent, offering superior drying power and effectively enhancing your grip. A percentage of sales for every bag sold goes to the Honnold Foundation, which supports solar energy for a more equitable world.
Pure magnesium carbonate offers superior drying power, enhancing grip. Environmentally friendly.
A percentage of proceeds supports the Honnold Foundation.
Sold in a 514 g bag, because that's the grade Honnold loves most 5.14.
All orders over € 39.95 within the Netherlands and Belgium will be delivered on your doorstep for free! For all orders below this amount, you'll be requested to pay a € 6.95 contribution to the shipping costs.
Please check the table below for shipping rates to other countries:
| | | | | |
| --- | --- | --- | --- | --- |
| Country | Rate | | Country | Rate |
| Netherlands | Free/€6.95 | | Monaco | €13.95 |
| Belgium | Free/€6.95 | | Norway | €23.95 |
| Germany | €8.95 | | Poland | €18.95 |
| Luxembourg | €11.95 | | Portugal | €16.95 |
| | | | Slovakia | €15.95 |
| Austria | €13.95 | | Slovenia | €19.95 |
| Czech Republic | €15.95 | | Spain | €14.95 |
| Denmark | €13.95 | | Sweden | €18.95 |
| Finland | €18.95 | | Switzerland | €23.95 |
| France | €13.95 | | United Kingdom | €23.95 |
| Hungary | €18.95 | | | |
| Ireland | €17.95 | | Rest of Europe | €25.00 |
| Italy | €14.95 | | Rest of the World | €40.00 |