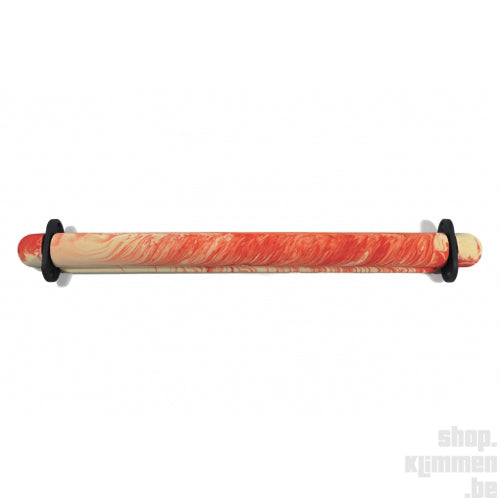 Rollybar, pull up bar
Vendor
Regular price

€9298
Regular price

€10326

Sale price

€9298
Unit price

per
The Lapis Rollybar is a pull up bar which has built in bearings at either end which allow it to rotate. This makes the act of doing a pull up significantly harder than usual as you fight against the rotation.
Doing a controlled pull up without too much power and with an engaged core is the key to using the Rollybar well making for excellent gains in your overall stability and grip strength. There is also a ridge running the length of the bar which can be gripped with your thumbs under it, this makes things a little easier to begin with. It can also be locked into a static position with a screw if you want to just use it as a normal pull up bar (all be it with a larger diameter). The Rollybar is made from a resin just like the climbing holds at your wall and has a nice fine texture which wont eat your skin too badly. It has been designed to hang from a pull up bar or beam using cord or slings (not included) and is easy to install.
Dimensions: 78,5cm x Ø 8cm Made in Slovenia.
All orders over € 39.95 within the Netherlands and Belgium will be delivered on your doorstep for free! For all orders below this amount, you'll be requested to pay a € 6.95 contribution to the shipping costs.
Please check the table below for shipping rates to other countries:
| | | | | |
| --- | --- | --- | --- | --- |
| Country | Rate | | Country | Rate |
| Netherlands | Free/€6.95 | | Monaco | €13.95 |
| Belgium | Free/€6.95 | | Norway | €23.95 |
| Germany | €8.95 | | Poland | €18.95 |
| Luxembourg | €11.95 | | Portugal | €16.95 |
| | | | Slovakia | €15.95 |
| Austria | €13.95 | | Slovenia | €19.95 |
| Czech Republic | €15.95 | | Spain | €14.95 |
| Denmark | €13.95 | | Sweden | €18.95 |
| Finland | €18.95 | | Switzerland | €23.95 |
| France | €13.95 | | United Kingdom | €23.95 |
| Hungary | €18.95 | | | |
| Ireland | €17.95 | | Rest of Europe | €25.00 |
| Italy | €14.95 | | Rest of the World | €40.00 |