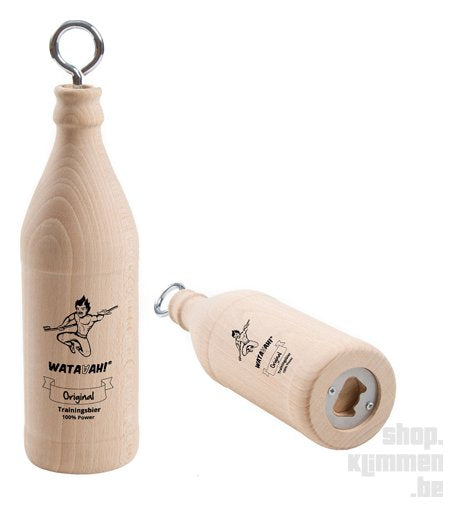 Training Beer, training grips
Vendor
Regular price

€5202
Regular price

€5781

Sale price

€5202
Unit price

per
The Frankenjura is Germany's biggest climbing area, but also the region with the highest density of beer breweries in the world!
Coincidence?? We didn't believe in coincidence and had a closer look! After long and exhausting researches our "scientists" came back with the result that beer can really make you strong!! Train with the Training Beer!!!
The WATAAAH Original Training Beer, a very effective training device to boost your finger power.
effective training device
several ergonomic Grip positions
including attachment points
including bottle opener (for the real beer, afterwards)
WATAAAH Original, the proof that beer can really make you strong!
"A man doesn't go to drink beer after climbing, beer is integral part of the climbing."
Produced in Germany from local wood.
All orders over € 39.95 within the Netherlands and Belgium will be delivered on your doorstep for free! For all orders below this amount, you'll be requested to pay a € 6.95 contribution to the shipping costs.
Please check the table below for shipping rates to other countries:
| | | | | |
| --- | --- | --- | --- | --- |
| Country | Rate | | Country | Rate |
| Netherlands | Free/€6.95 | | Monaco | €13.95 |
| Belgium | Free/€6.95 | | Norway | €23.95 |
| Germany | €8.95 | | Poland | €18.95 |
| Luxembourg | €11.95 | | Portugal | €16.95 |
| | | | Slovakia | €15.95 |
| Austria | €13.95 | | Slovenia | €19.95 |
| Czech Republic | €15.95 | | Spain | €14.95 |
| Denmark | €13.95 | | Sweden | €18.95 |
| Finland | €18.95 | | Switzerland | €23.95 |
| France | €13.95 | | United Kingdom | €23.95 |
| Hungary | €18.95 | | | |
| Ireland | €17.95 | | Rest of Europe | €25.00 |
| Italy | €14.95 | | Rest of the World | €40.00 |